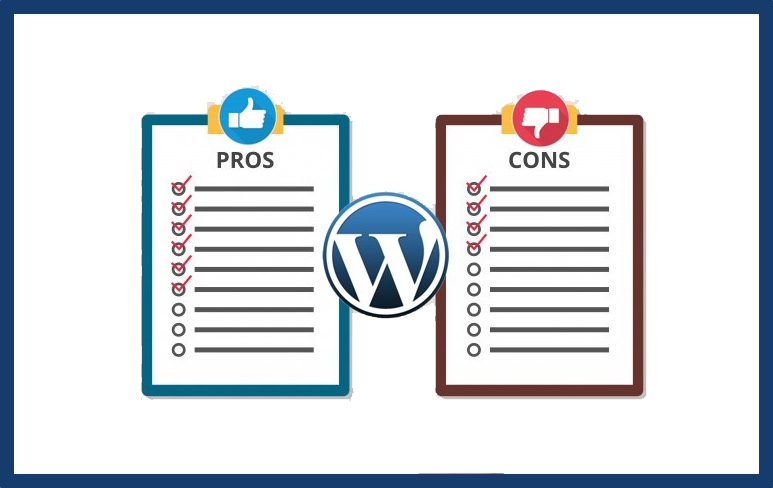 The Pros and Cons of WordPress
Fri, May 3, 2019 4:00 PM GMT
WordPress is the CMS market leader that is used by web designers and web development companies around the world. You can't escape its power, its lure, and its ease of use. So pervasive is WordPress that customers demand it, and most young web designers only know how to build a website using it. WordPress powers over 33% of all websites on the Internet today. So why is it so widely used and loved by so many? Let's take a closer look at the good, the bad and the ugly.
First let me start by saying that WordPress has made it easy for a lot of businesses and cash-starved start-ups, to get a website online with minimal cost and with only some basic knowledge of web development.
On the flip side it has made the barrier to entry for start-up web design firms very low. This puts a lot of customers at the mercy of inexperienced "business people" now running a company with all the responsibilities that go with it. They might be great website developers, but they come with all the personality and pleasantry of your typical computer programmer. (no offence to my developer friends… but you know it is true).
What makes WordPress so good?
Great content management system. The biggest advantage for the average user is how easy it is to navigate the pages and content. Hence, why it's a great CMS (content management system). It's set up so that those familiar with Microsoft Word can understand what is going on. A little HTML always helps but WordPress will make the everyday updates to your site simple and easy. You can adjust things as you move on, depending on your likes and dislikes.
Bloggers. How many of you heard of WordPress as a blogging platform? Well, WordPress has graduated to other levels, aside from the blogging your complete website can be managed here as well. Blogging is still at the core of the program, but there are a lot of places to go from there.
Plugins. Plugins can be very handy when looking for out-of-the-box solutions to save you time and money. There are lots of free and paid plugins you can install to make developing your site easier and more functional.
Low Cost. WordPress is completely free to install on your server (you do need to pay for hosting). There are also lots of free themes to use and the paid ones are pretty cheap most of the time.
SEO. WordPress can make search engine optimization easy for the non-expert but leaves a lot of room for true SEO to be optimized. But, generally speaking, using the ubiquitous YOAST plugin will allow you to get the foundation started correctly.
Mobility. I'm not talking about how responsive your website will be on a mobile phone or tablet, I'm talking about how easy it is to find someone to work on your website if you have to fire your web designer and move to another developer. As long as you have the keys to your site, domain, and hosting, you can move your project to another designer and almost guarantee that they will be able to pick up where the last designer left off.
---
WordPress has:

53,000 + free plugins, plus thousands of more premium plugins.

5,000+ free themes, plus thousands of more premium themes.
---
What makes WordPress NOT so good?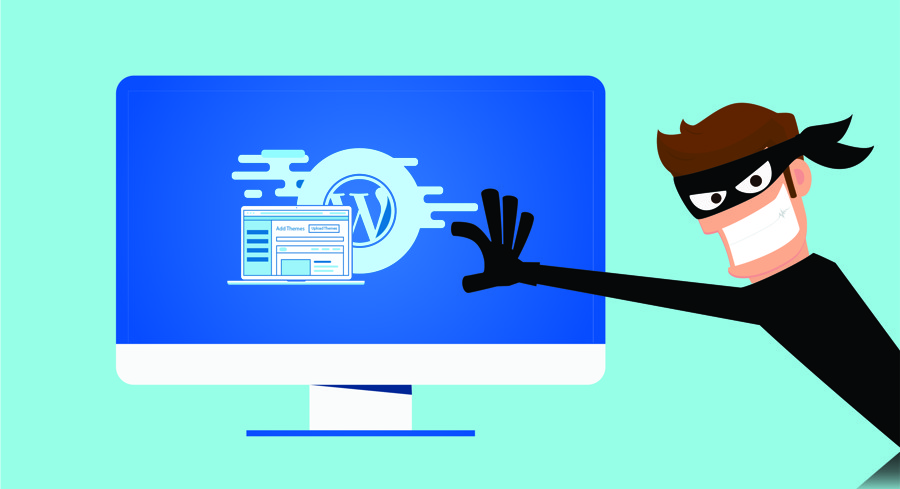 Security. WordPress sites are prone to hacks. Malware can be installed on your WordPress site very easily if you don't take the necessary precautions. WordPress does update the native code for security vulnerabilities, but it is up to the user to make and plan the updates. Plugins often have conflicts with the updated version of WordPress so then you have to make sure your plugins are up-to-date. And often the plugins are not updated at the same time and the WordPress update, so you have to delay your WordPress update for your plugins to be updated.
What happens when you have 25 plugins? As you can see it can become a time challenge to manage it all. Oh, and did you update your server to the latest version of PHP? I can go on, but properly managing WordPress updates and security is a job on to itself.
WordPress accounted for 90 percent of all hacked CMS sites in 2018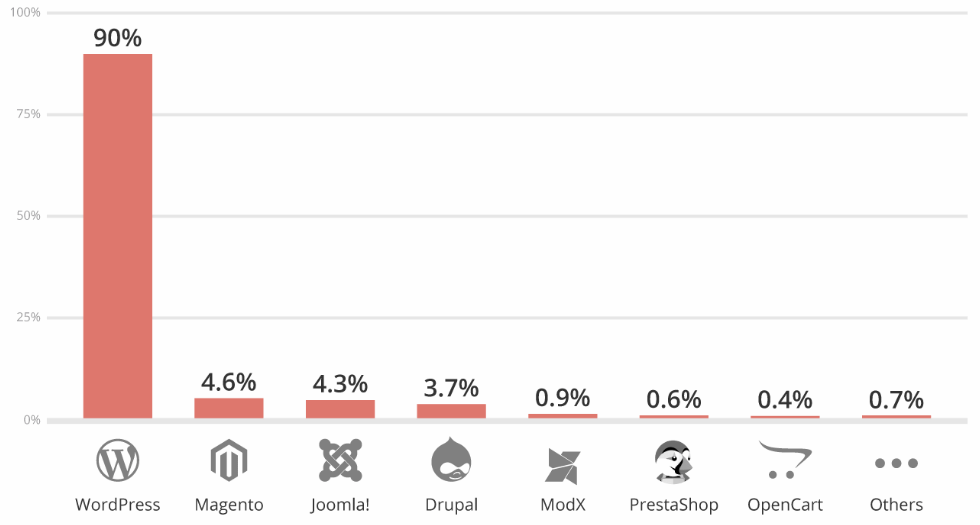 Ease of use. I know this is often touted as a pro of WordPress, but it really depends on the skill level of the user. WordPress is not WIX or GoDaddy website builder. It takes a lot more time and understanding than those applications to get going.
By far, the biggest difference between Wix and WordPress is that WordPress is a standalone software that you need to install (or have installed by a third party) on a web server. Only then do you get to use it as the software running your site.

Wix, on the other hand, is a tool/service that you sign up for. Which might be easier for the average person, but then you end up with a WIX website ☹. Which is ok for the beginner/startup, but companies that have bigger needs will out-grow WIX very quickly.
Me too Websites. Because many WP users use the same plugins, WordPress sites tend to all look pretty similar to each other. This is not a great thing if you are trying to visually distinguish your brand from others.
Depending on your needs, WordPress could be a great fit for you – or it could be a real mistake. For most small businesses and bloggers who simply want to launch a simple, easy-to-maintain website, and do not need too much sophistication, WordPress will be more than enough. However, larger entities with lots of capital may want to invest their resources to set up a custom-built website with a solid digital marketing plan.
So how does WordPress compare to SmartDesk?

Well, I'm glad you asked 😉 In all fairness this really is an apples to oranges comparison but there are some important takeaways from this exercise.
SmartDesk is an all-in-one digital marketing platform that has an integrated website and blog component along with lead and sales management, email marketing, and email automation native to its core offering. WordPress is a software you install and manage yourself, and SmartDesk is a SaaS (software as a service) that you pay monthly to use and grow with.
Both WordPress and SmartDesk allow users to create blog posts on the fly with a WYSIWYG (what you see is what you get) interface, image upload, blog categorization, post scheduling, custom design themes and search engine friendly URLs.
Similar to blogs, both applications allow you the same functionality when creating and updating website pages. However, this is where the two applications start to diverge.
WordPress has an enormous number of plugins and themes to help the everyday average user, SmartDesk relies on a web designer to create and implement the website into SmartDesk. Once the site is integrated, SmartDesk is a much easier environment to make updates and additions.
Managing multiple languages is an integrated component to SmartDesk whereas with WordPress it is an additional plugin to accomplish the same thing.
SmartDesk has a complete audit log with every page and record, so seeing who made what changes to your website and when is an easy one-click function. WordPress doesn't have this ability.
With SmartDesk you can manage multiple websites with multiple domains with one application.
Most importantly, SmartDesk is a much more secure application than WordPress. The amount of hacking and damage that is done to WordPress websites is a serious issue that is not resolved yet, and likely won't be.
SmartDesk is not an open source application that outside programmers have access to the source code. SmartDesk doesn't have 3rd party plugins that introduce risk and vulnerabilities.
The wrap-up
WordPress is a great open source application that a lot of companies have benefited from. It is also a great application for the start-up organization that has to boot-strap their launch. SmartDesk is the next evolution, as companies start requiring better tools to manage their website, blogs, leads, sales and email communications, along with a growing employee base, SmartDesk has a solution that can grow with the needs of most companies today.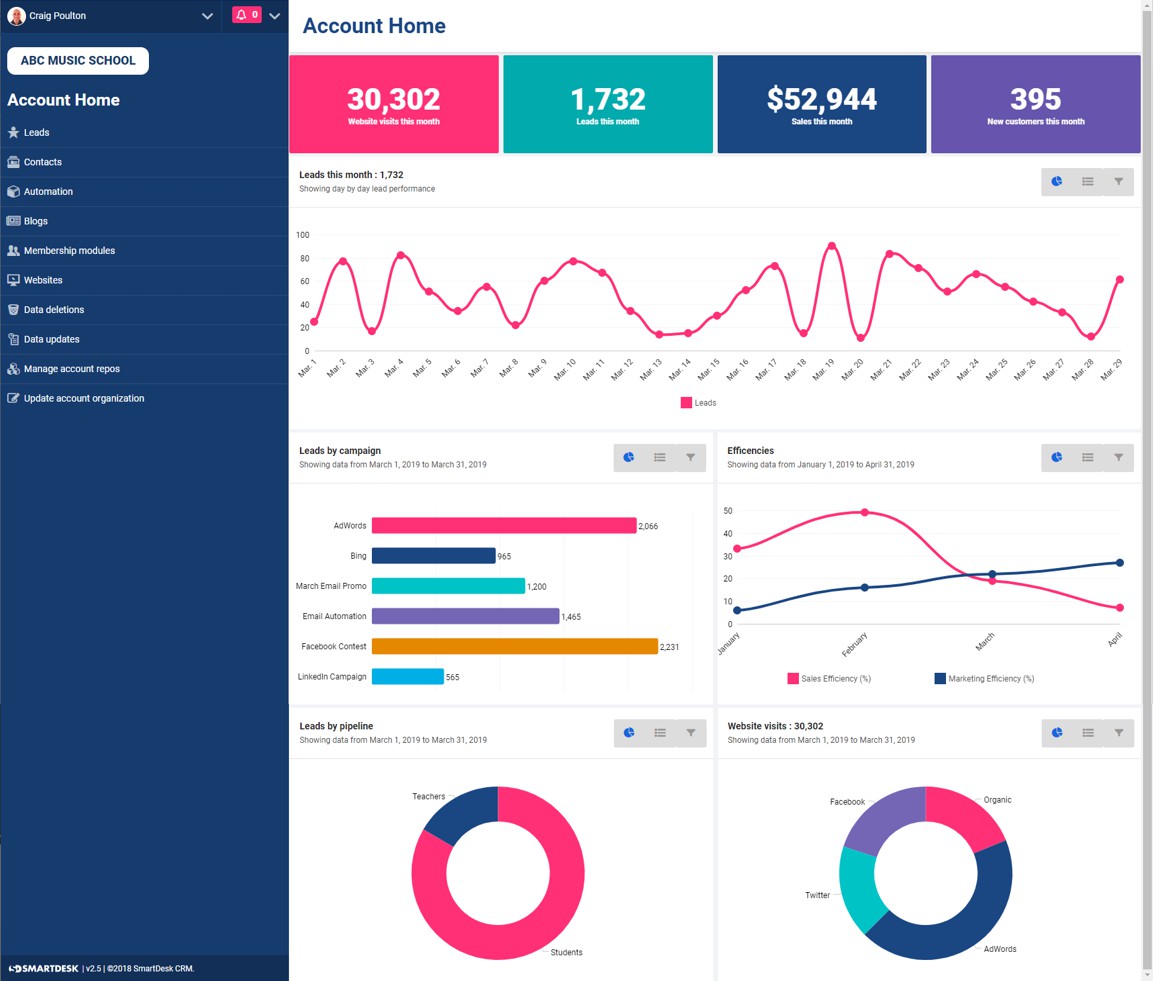 SmartDesk is a new and exciting multi channel marketing hub for small to medium sized businesses looking to improve marketing efficiencies across the board. Compared to other platforms, you can do more for less and it is really easy to use. If you are not currently using a email marketing tool please contact us today to see the power of email automation and a team that has your back every step of the way.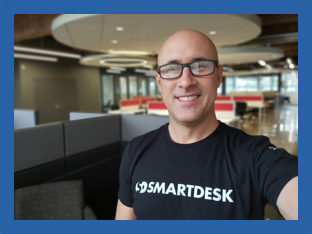 Craig Poulton, VP Sales & Marketing
SmartDeskCRM Inc.